So, you have finally taken the decision and for your next big trip, you chose magical Colombia as your destination. Congratulations the first step has been taken.
However, now the difficult process of deciding on what to visit in a country as big as Spain and Portugal together has to start! What do you add to your Colombia Tour packages and what do you leave out?
This is usually a very personal pick, but we would love to recommend one of our absolutely favourite destinations in the country: Casanare. A place where nature, wildlife, a traditional way of living and authenticity merge into an astonishing spectacle.
Casanare is located in the central east of Colombia and is characterized by impressive and infinite plains. These savannahs start from the feet of the Eastern Andes mountain range and run all the way into Venezuela.
The whole region measures around 44.640 km2 – roughly the size of Denmark, and is inhabited by a population of 350.000 people. This clearly shows that nature wins over construction and that the population density is ridiculously low, allowing visitors to enjoy nature to the fullest.
The average temperature lays around 29 C and it is possible to distinguish two clear seasons in Casanare. The first one is called the rainy season and runs from March until June. There is usually another rainy period in the month of November.
In these rainier periods, the plains turn lush green and flowers bloom in vivid colours. The million birds that inhabit the region also do their best to show off their most eye-catching colours in this period. This results in a gorgeous palette that can be discovered by horse, or by canoe.
The drier period runs from June to October and the plains turn barer with fewer lakes and creeks for the animals to drink from. The biggest advantage of this period is that the animals gather together around the remaining water sources, making it lot easier to spot them.
Below we will list our main reasons why we recommend you to add a visit to Casanare in your Colombia Tour Packages.
Reason 1: Wildlife easier than anywhere else
People normally believe that the Amazon Jungle is the place to visit if you want to spot exuberant wildlife in Colombia. Even though it is a gorgeous place with plenty of wildlife, we tend to disagree with this belief because we have visited both places several times and were positively surprised by the abundance of wildlife of the Casanare region.
Without doing any effort, it is possible to spot plenty of animals on your walks, drives, and rides. In the fields just next to the road you will be able to observe a tremendous amount of birds, going from many types of herons to ibis, spoonbills, jabirus, parrots and many more.
They share their habitat with the easily visible caimans, capybaras, deer, different types of monkeys, wild pigs, turtles, and tortoises. With a bit more effort, but absolutely not impossible, you will also be able to spot anteaters, anacondas, armadillos, otters, wild boars, ocelots, and pumas. If you are a nature enthusiast, a birdwatcher, or just looking for a unique experience, then this is your place to be!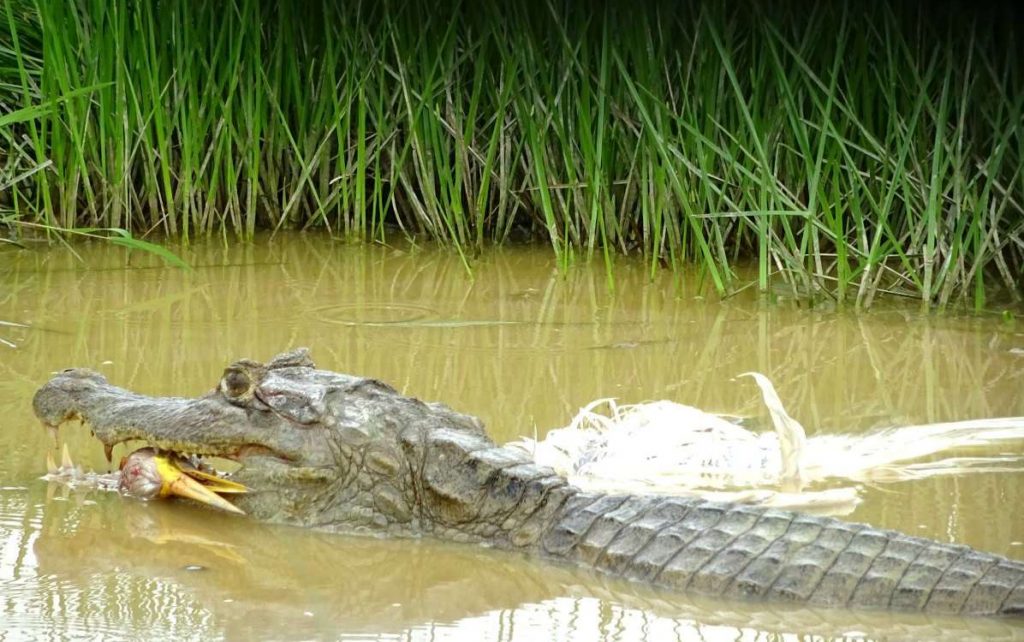 Reason 2: Traditional way of living
The people of Casanare traditionally live close together with their horses and cattle. They live on the rhythm of their livestock, usually zebus, and organize their lives in ways that everything they do is linked to their ranch.
A typical family lives together in a ranch where they have an open-air kitchen and sleep in hammocks. You will notice that many inhabitants don't use shoes because they are used to do everything barefoot, this includes horseback riding.
The children are taught horseback riding from a very young age in order to help their parents herd the cows. However, nowadays not everybody sticks to the traditional ways.
Nonetheless, you can see most of the traditional ways of working with the cattle demonstrated in cowboy events, which are considered cultural heritage.
There is a yearly competition, aired on television and in reality tv-format, in which several contestants compete against each order to become the most admirable cowboy of the year. Their challenges include among others fighting with an anaconda, helping cattle cross a wild river, play the traditional guitar, demonstrate their skills to calm cows down by singing to them, and domesticate wild horses.
It is possible to visit a museum, created by a previous winner of the competition, where he demonstrates some of his skills and showcases objects made by locals in traditional ways and that were used for real in the past.
If you are looking for a destination where you can really witness the traditional ways of living, then you should definitely include Casanare in you Colombia tour package.
Reason 3: Unique destination
Casanare is very new to tourism. It is actually considered an off-the-beaten-track destination in Colombia. Many locals from other parts of the country don't even know where it is and what is there to do. Additionally, many travel guides such as Lonely Planet, don't mention anything about it.
Even though this might sound suspicious and scary to some travellers, it is actually a fantastic opportunity to visit an area with plenty of attractions that not too many people dare to visit and that is totally safe.
It is not just the amazing feeling of not seeing any other tourist during a couple of days. Visiting Casanare allows you to have the entire place for yourself so that you can enjoy this area at its fullest and receive all the love and kindness from locals who are incredibly happy to receive foreigners in their department and show them the beauty of it.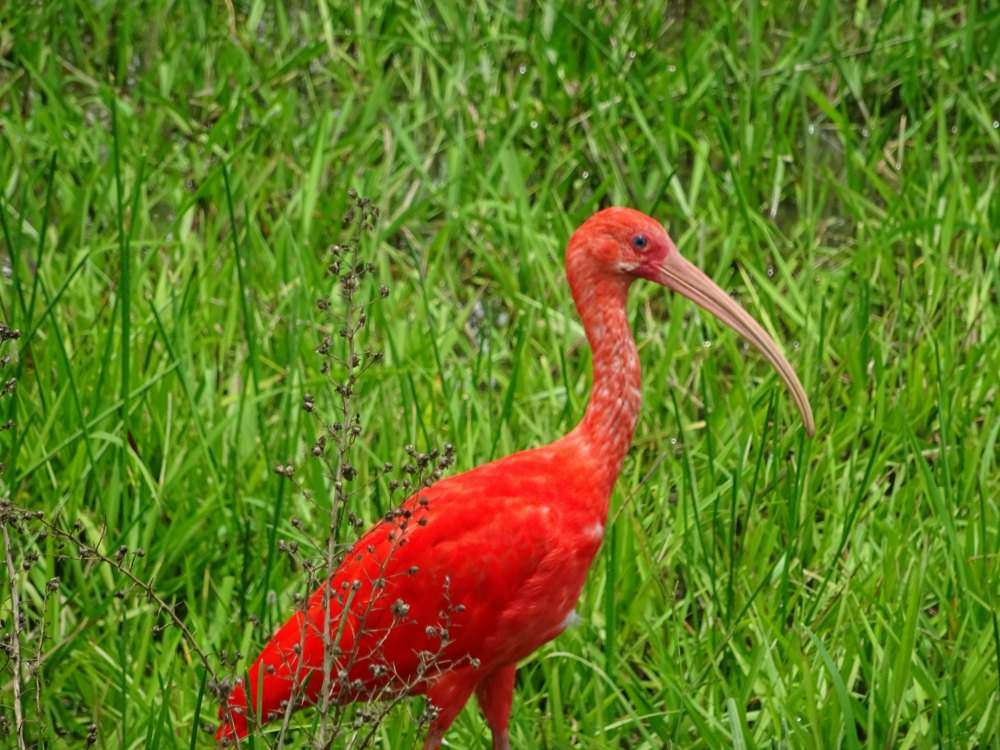 The most frequent comment we receive from tourists we have sent to Casanare is that it is "so authentic and full of wildlife". Until now, all tourists we have sent there, have ranked Casanare as their #1 destination to visit in Colombia and some of them are already planning on coming for the second time.
Casanare has always had this incredible wildlife and authentic lifestyle. However, is only until very recently that tourism started. This is because this region suffered a lot from the many years of the Colombian internal conflict between guerrilla groups, right-wing armed groups, and the national army.
During decades, Casanare was not safe for travellers. The risk of being caught up in an armed confrontation or being kidnaped was high. However, these dark times are now gone and travelling around the entire department is now totally safe. A paradise that is waiting for more foreign travellers to come discover it and enjoy it.
Reason 4: Sustainable tourism
One of the main challenges of regions that were excluded from tourism for many years and that are now beginning to attack travellers, is how to create a constant growth in tourism with a high emphasis on sustainability.
If tourism is not well planned and organized, wildlife paradises like Casanare could quickly be destroyed by mass tourism. Additionally, it could end up being a great business for a few big enterprises but not really help improve the life quality of the locals.
Unfortunately, the efforts towards a sustainable tourism done by the government and its official institutions are not always enough and without the positive intervention of private entities and individual, it will be hard to really achieve a sustainable tourist industry.
Luckily for Casanare, there is a woman who is leading a very big movement of sustainable tourism in the department. She is like a local hero whose hard efforts are starting to show some very positive results.
Her name is Laura, and with the help of her husband and some friends, they have created an NGO that aims at nature conservation and sustainable tourism in Casanare.
Her story is inspiring. She is an ecologist who was working for an oil extraction multinational company that was interested in drilling for oil in Casanare. Her job was to persuade local farmers to sell their lands to this multinational company so that they could start drilling there.
She was sent to a remote area in the east of the department and was supposed to come back with land purchase agreements. However, when she arrived there and saw the amazing nature and wildlife or the area and met the incredibly kind and friendly locals, she realized that opening an oil extraction factory here would ruin it all. Therefore, she came back with her resignation letter instead of the purchase agreements.
At that time, she knew she had to do something to help the local farmers improve their life quality and receive better incomes from eco-friendly activities. Otherwise, the temptation of going for the easy money that the oil industry offered was too big.
She knew that sustainable tourism was the right path. Since then, she and her NGO have been giving guidance, consultancy and sometimes even resources, so that local farmers start working with tourism.
With her help, many farmers have managed to get their lands recognized as Important Bird and Biodiversity Areas (IBAs) and nature reserves. These statuses help them to protect their lands to the ever-constant threats of the oil and petrol industries, and also help them to attract tourists looking for birds and nature.
By travelling to Casanare with Lulo Colombia, you are helping fuel this conservation and sustainability tourism projects. You will be guided by local farmers, stay at their ranches (now being converted into basic hotels), and be driven around by a local driver.
If you are looking for authentic experiences with plenty of nature and wildlife, and want to leave a positive mark on the local economies, you should definitely include Casanare in your Colombia Tour Package.