Deciding what is going to be the destination for your next vacations is not always that easy. There are plenty of variables to take into consideration and people to consult for advice. But if you are reading this post, most likely is because you have already decided to visit Colombia for your next holidays.
Congratulations, you have done a fantastic choice. Colombia is an amazing country to spend your holidays. It is a country with great weather all year-round, plenty of attractions for every type of traveller, very friendly people and a destination that nowadays is totally safe to visit.
Now that you have taken the decision of visiting Colombia, you must now be facing the dilemma of what destinations should I include in my itinerary and my Colombia vacation package. It is usually the hardest part of planning a trip to this diverse country.
Colombia is a big country (roughly the size of Spain and Portugal together) with a huge diversity of landscapes, wildlife, weather, architecture, and culture. Choosing where to go and where not to, is a challenging task.
To make that process a bit easier, I am going to give you the reasons why you should always include San Agustin in your Colombia Vacation Package.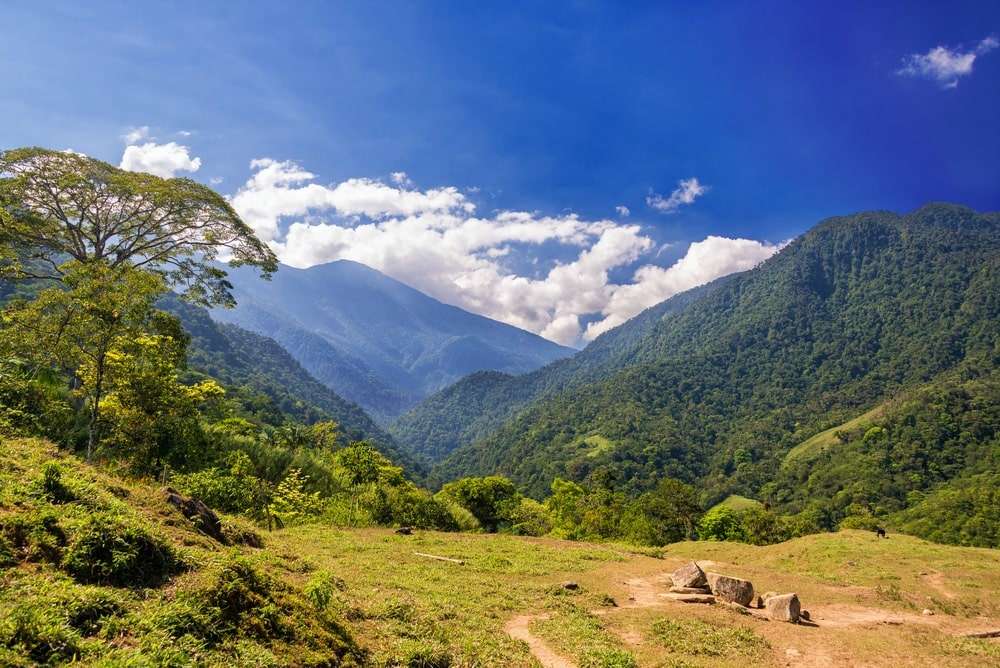 San Agustin is a small city located in the south of Colombia at an altitude of 1730 meters above sea level with very pleasant temperatures of around 20 degrees Celsius (68 Fahrenheit). Its population is around 33.000 inhabitants.
San Agustin is mainly famous because of its Archaeological Park, one of the most important archaeological places in South America that was declared part of UNESCO's World Heritage site in 1995.
Nevertheless, San Agustin has plenty of different attractions to offer besides its Archaeological park that will amaze any type of traveller. The following are the top reasons why I strongly recommend you include San Agustin in your itinerary:
Archaeology
San Agustin is a fantastic travel destination even if you don't care about archaeology. However, one of the main reasons why people come to San Agustin is to visit its archaeological sites.
Around 5000 years ago, 2 indigenous tribes lived in the valleys between the Magdalena river and the Cauca river, the two biggest rivers of Colombia. Divided by high-altitude mountains that were impossible for them to cross, they used the rivers as their highways.
Near the current city of San Agustin, is where these 2 rivers are born. It was there were those two civilizations met to trade, to worship and to bury their dead.
Some volcanoes in the region, that are now extinct, threw plenty of rocks into the surrounding fields. Local sculptures of those indigenous tribes used those rocks to create gorgeous statues across the entire area.
More than 500 statues have been found scattered around the green mountains of the surrounding area of San Agustin. The largest of the statues is 7 meters high. Many of the statues are anthropomorphic figures. Some of them are realistic while others resemble monsters. There are also some sculptures representing animals they considered sacred like the eagle, the jaguar, and the frog.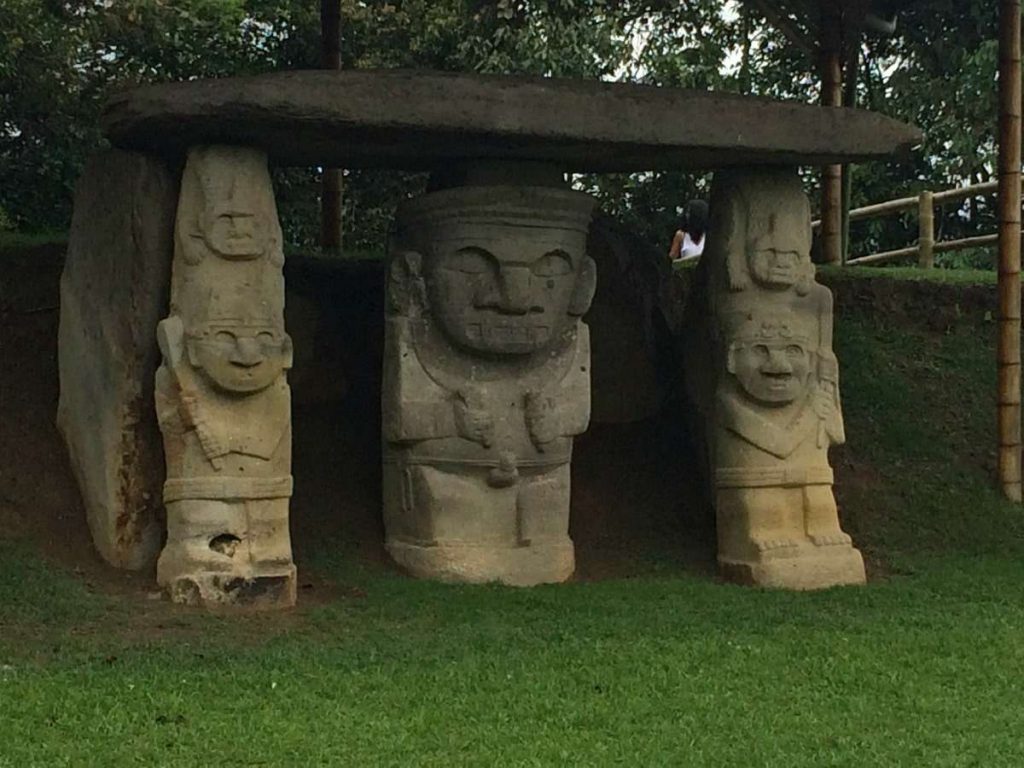 Unlike the indigenous tribes of northern parts of Colombia, the ones of San Agustin had no gold to mine and therefore their offerings were not made in gold but in pottery. They didn't have a written language and it is estimated that hey had disappeared a few centuries before the Spanish colonizers arrived.
This has made it very difficult for archaeologists to understand the meanings of these statutes. Nevertheless, their legacy is one of the most important archaeological sites in South America and it is definitely worth a visit.
The following are the most iconic archaeological sites in the surroundings of San Agustin:
– Archaeological Park of San Agustin:
The most famous and important of all.  It is an open-air museum located just 2.5 kilometres outside town, having a total area of 78-hectare containing some of the most impressive statues. There are about 130 statues, some of them were found in situ while others were brought here from the surrounding areas.
I recommend you visit this park before any other archaeological site, as here you will get the most extensive explanations needed to understand the diverse statues of all sites in the surroundings.
– Archaeological parks of Isnos:
Isnos is a small village located 26 kilometres from San Agustin. In the surroundings of Isnos, there are two fantastic archaeological sites: Alto de los Idolos and Alto de las Piedras. The statues in these two parks have been found in situ on top of hills from where you will get amazing views over the surrounding green mountains.
Alto de los Idolos has the largest of all the status (7 meters high) while Alto de las Piedras has the most elaborate and famous of all, the "Doble Yo".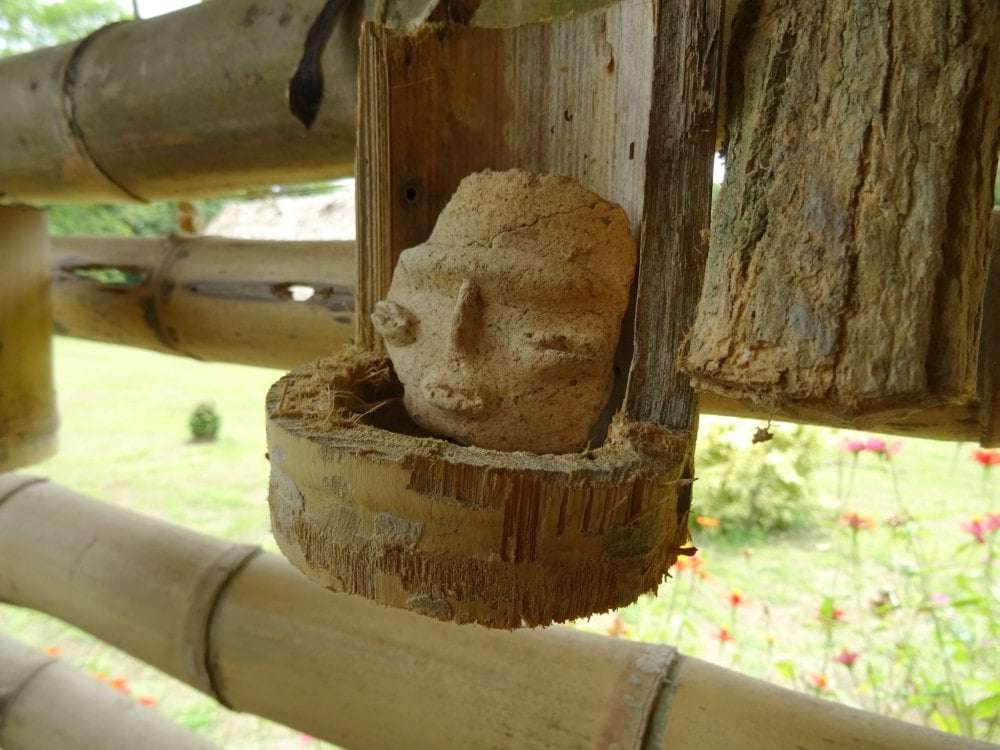 – La Chaquira:
Located 4,5 kilometres from San Agustin, in a cliff overlooking the Magdalena river, this place is famous for a huge rock in which the indigenous tribes carved the shapes of a woman with her hands up overlooking the canyon towards the west.
– La Pelota y El Putural:
Located 7,2 kilomoles from San Agustin, this archaeological site is famous for having the most colourful of all the statues found in the area. The place is better reached by taking a horseback riding tour.
Even non-archaeology lovers will enjoy a day or two wandering through these sites. If you are interested in archaeology, then you should certainly include San Agustin in your Colombia vacation package.
Landscapes and agriculture
The surroundings of San Agustin offer some of the best mountain views in Colombia. The valleys next to the Magdalena river are surrounded by gorgeous mountains that seem to show every possible variation of the colour green.
By going on a tour to the archaeological sites of Isnos, La Chaquira or La Pelota, you will witness plenty of amazing landscapes. Along the roads, there are several viewpoints from where you can enjoy canyons and waterfalls.
Some of the most beautiful waterfalls in the area are the Salto de Mortiño and Salto de Bordones. Both are huge waterfalls located in the middle of rocky canyons.
In the proximity of these waterfalls, special the Salto de Mortiño, there are some farms growing different types of fruits and vegetables. These fertile lands are great for growing some of the best coffee too.
When you visit the Salto de Mortiño, you could for instance visit some coffee plantations. You could also visit some Lulo plantations. Lulo is a typical Colombian fruit that resembles a hairy orange from the outside and a green tomato on the inside. It has a bit of a sour taste but adds some sugar and it becomes a delicacy.
The surroundings offer great trekking possibilities and the views around sunrise and sunset are breathtaking.
Adventure activities
For those travellers looking for a mix of archaeology and adventure, San Agustin is the place. The surrounding mountains, canyons, rivers, and caves offer great adventurous opportunities. The following are my favourite two adventurous activities:
– Horseback riding:
I know it doesn't sound that adventurous, but it is actually a fantastic experience. Most horseback riding tours will take you on a half-day circuit in which you will visit some archaeological places such as La Pelota.
Along the route, you will pass through gorgeous countryside roads and paths from where you will be able to enjoy the stunning views of the surrounding mountains and to witness the nature and wildlife of this area.
Longer tours can also be arranged here. One of the most amazing multi-day horseback riding tours you can do in Colombia starts in San Agustín and goes through the mountains until Popayan. It takes 8 days and you will pass by the exact point in which the Magdalena river is born.
It is important to say that horses in San Agustin are perhaps the best horses you will find in Colombia. They are usually very healthy and very well trained.
– Rafting:
The massive Magdalena river and other smaller rivers in the surroundings offer great rafting opportunities. From beginners to experts, there are rapids for everyone.
Rafting in this area is done in a very responsible way, following all security measures.  Taking a rafting tour will certainly fuel your adrenaline but also give you access to be very close to nature and enjoy the wildlife and views over the surrounding mountains.
It is important to mention that when the weather is bad or if it had been raining a lot in the mountains, it won't be possible to do rafting as the water levels increase too much and it can turn out to be dangerous.
The local market
Almost every village in Colombia has a charming local market, but the one of San Agustin is one of the most special ones.
Come in a Monday morning and witness how farmers from the surrounding mountains come with their fresh produce ready to negotiate, bargain and hopefully sell it all at a good price.
It is a chaotic but charming scene where you will be able to interact with the authentic locals and try plenty of exotic fruits.
San Agustin is one of my favourite destinations in Colombia and the previous were my 4 top reasons why. I strongly recommend you include it in your Colombia vacation package as I am sure it will be one of the highlights of your trip to Colombia.